シアターコモンズ '23 サエボーグ『ソウルトピア』ご予約に際してのご案内
2023.2.22
サエボーグ『ソウルトピア』をご予約の皆さまへ
==English follows Japanese.==
今回使用するメタバースプラットフォーム・VR Chatへの参加には、事前にアカウント登録&アプリケーションのダウンロードが必要となります。
お客様ご自身が使用される機材によって、ご登録方法が異なりますので、それぞれ以下のリンクから必ず事前にご確認いただき、アカウント登録をお願い致します。
またご登録後、設定したディスプレイネームを指定のフォームにてご提出ください。
(フォームのリンクは、ご予約後の自動返信メールに記載しております)
当日の参加方法等につきましては、その後個別にご案内致しますので、
予約日前日までに必ずご提出をお願い致します。
それ以降に提出された場合、参加までに事前準備が必要な関係で、
ご予約されたスロットに参加頂けない可能性もございますので、ご了承ください。
<VR Chatへのご登録方法>
①Quest2 + Store版VRChatでのログイン方法【PCVR(Quest2)、Linkケーブルなし】:
https://drive.google.com/file/d/1idjVb22hXZYSInDzxdi-t5CdRZOEXlnx/view?usp=share_link
②Steamからのログイン方法【PCVR(Quest2)、Linkケーブルあり】:
https://drive.google.com/file/d/1MFWRdJUjzNLPOJ0N5LkCS14GgZ7BOiWG/view?usp=share_link
③Quest2単体でのログイン方法【VRのみ】:
https://drive.google.com/file/d/1vzRSHFBRxcVnDFqmxMVqN455evP5IdgM/view?usp=share_link
④VRChatのログイン方法【PCのみ】:
https://drive.google.com/file/d/1-io62PpMRBbPQ0pSf6PoBxq1pCj70P_j/view?usp=share_link
※今回初めてVR chatに登録し、かつVRで参加される場合は、Oculus Quest2の使用を推奨致します。
<ディスプレイネームの確認方法>
初回登録の方は、登録アカウントのユーザー名がディスプレイネームとなります。
(VR chatウェブサイトにて登録アカウントでログインした際に、以下画像のように出るお名前がディスプレイネームです)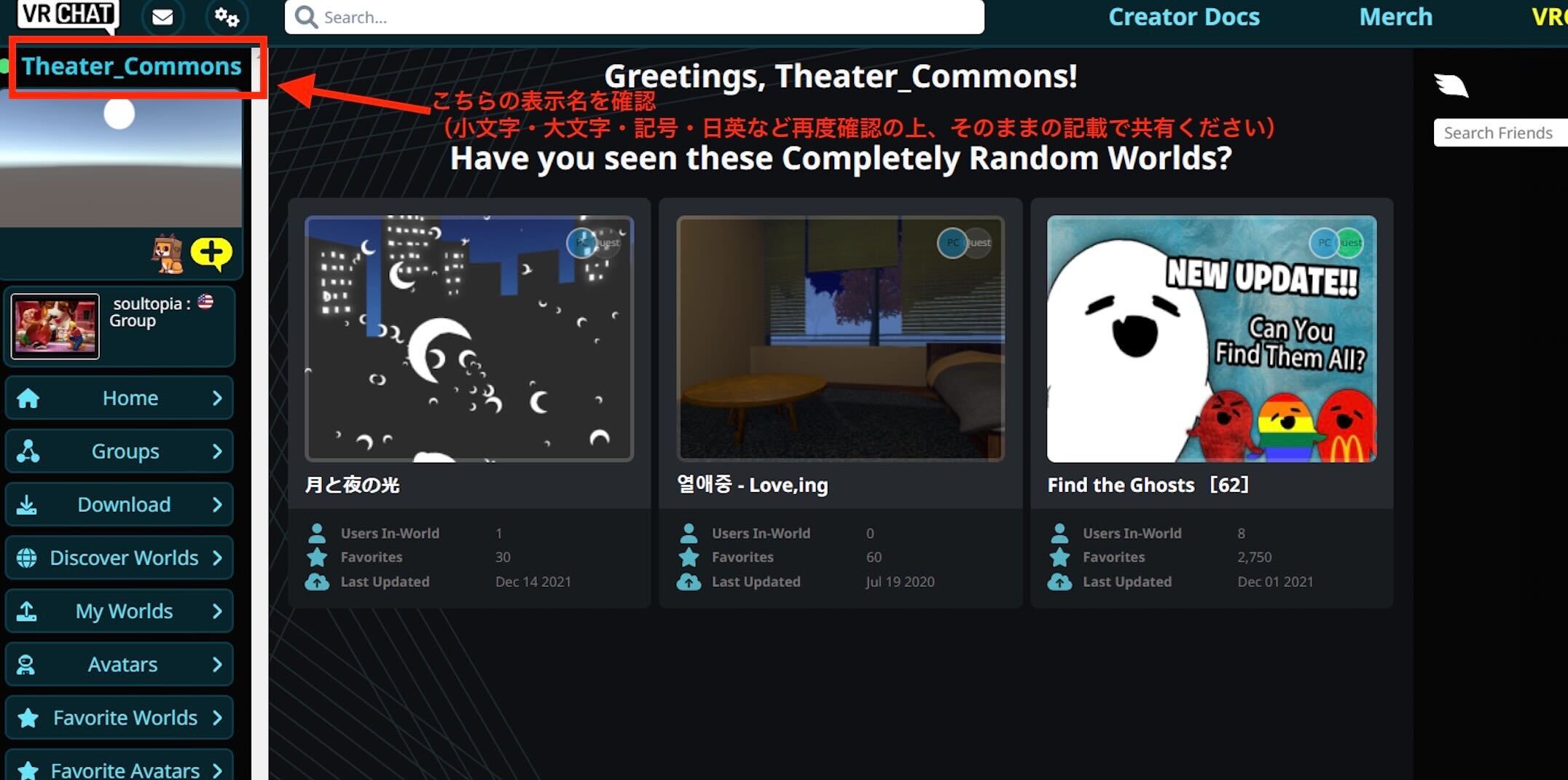 ディスプレイネームを変更したい方は、以下のリンクを参考の上変更をお願い致します。
※作品内の写真・動画撮影は原則OKとなりますので、VR Chatで使用するディスプレイネームはなるべく匿名性の高いものをご使用ください。
※ディスプレイネーム提出後は、ネームを変更しないようお願い致します。
※機材等動作環境を満たしているにも関わらず、上記いずれかの方法を試してもログインができない、VR Chatへ参加できない場合は、シアターコモンズ実行委員会 サエボーグ演目担当( saeborg.theatercommons23@gmail.com )までお問い合わせください。
VR Chatの推奨/最低動作環境についてはプログラムページ(https://theatercommons.tokyo/program/saeborg/)をご確認ください。
シアターコモンズ実行委員会事務局
サエボーグ演目担当
——————–
Theater Commons '23 Program
Information about reservations for "Soultopia" by Saeborg
You need to register for membership and download some applications in order to participate in "VR Chat," the metaverse platform that is used in this program.
The registration procedure differs depending on the equipment you will be using, so please be sure to check the link below.
After registration, please also submit the display name you have set up in the designated form.
(The link to the form will be included in the auto-reply e-mail you receive after making a reservation.)
Since Information on how to participate on the day of the event will be provided individually thereafter, please submit your display name as soon as possible.
<How to register for membership>
(1) How to login with Oculus Quest2 +OculusStore VRChat [PCVR(Quest2) without Link cable]:
https://drive.google.com/file/d/1-IS3Fq7dLvseONfBvmlQb1QBUjblwZfs/view?usp=sharing
(2) How to login VRChat on Steam [PCVR(Quest2) with Link cable]:
https://drive.google.com/file/d/13JfdfxxI-cNCmCMplcJPlO5rgGJb9ZrN/view?usp=sharing
(3) How to login with Quest2 [VR]:
https://drive.google.com/file/d/1PTRK4KbCJGNfWKAVc5V-L6jPugbQpchF/view?usp=sharing
(4) How to login with VRChat [PC]:
https://drive.google.com/file/d/1QEesibU8PauzQbMsoK46cUA-NLzuRQ1e/view?usp=sharing
*If you are registering for VR chat for the first time and participating in VR, we recommend using Oculus Quest2.
<How to check your display name>
If you are a first-time registrant, your display name is the username of your registered account.
(Your display name is the name that appears in the image below when you log in with your registered account on the VR chat website.)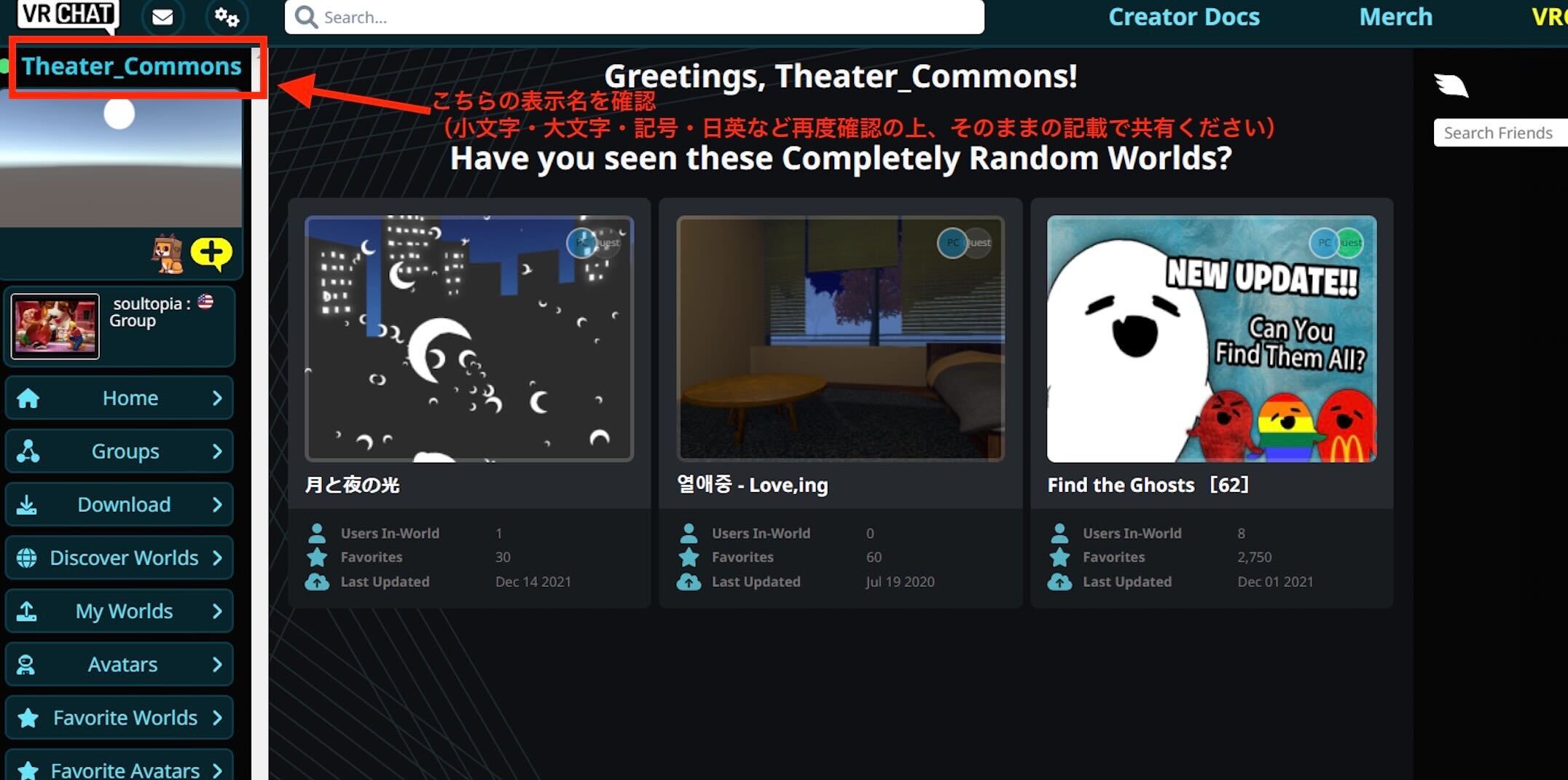 If you would like to change your display name, please refer to the following link.
https://onl.la/QgKseg3
*In the show, taking photos and videos is allowed. Please use a display name that is as anonymous as possible in the VR Chat.
*Please do not change your display name after submitting it.
*If you are not able to log in to the VR Chat even though you meet the requirements for the equipment and operating environment, please contact Theater Commons Executive Committee (saeborg.theatercommons23@gmail.com).
Please check the program page (https://theatercommons.tokyo/en/program/saeborg/) for the recommended/minimum operating environment for VR Chat.
Theater Commons Executive Committee
In charge of Saeborg's program