Meiro Koizumi
"We Mourn the Dead of the Future"
Workshop
Join this workshop aimed at forming a modern "ritual" born in the space between flesh and feelings, individual and group.
Meiro Koizumi is an artist who seeks out the relationships between state and individual, spirit and body, and exposes them in video works which borrow techniques from theater. Starting with his recent work Rite for a Dream (Today My Empire Sings), he has been making waves in the worlds of theater and art with his direction style: filming as involuntary, physical reaction, expressing the violence latent in society and its structures.
In collaboration with Theater Commons Tokyo, Koizumi is holding a workshop to investigate the ritual that arises in the space between the individual and the group. Can an individual lay down his life for the sake of the community? Koizumi returns to themes he has long grappled with, heroism and self-sacrifice, joining with the participants to create a performance as a kind of "ritual." As they integrate their individual bodies and voices into the group's, then break away again, how will their experience and appraisal of contemporary society change?
Profile
Meiro Koizumi
Koizumi studied at the International Christian University, Tokyo (1996-1999), Chelsea College of Art and Design, London (1999-2002), and Rijksakademie van beeldend kunsten, Amsterdam (2005-2006). His previous solo exhibitions include "Trapped Voice Would Dream of Silence" at Arts Maebashi (2015), "Project Series 99: Meiro Koizumi" at Museum of Modern Art, New York (2013), "Stories of a Beautiful Country" Centro de Arte Caja de Burgos (CAB), Spain (2012), "Defect in Vision" at Annet Gelink Gallery, Amsterdam (2012), MAM Project 009 at Mori Museum, Tokyo (2009). He participated in numerous group shows such as, "Future Generation Art Prize" at Pinchuk Art Center, Kiev (2012), "Invisible Memories" at Hara Museum, Tokyo (2011), Liverpool Biennial (2010), Media City Seoul (2010), and Aichi Triennale, Japan (2010).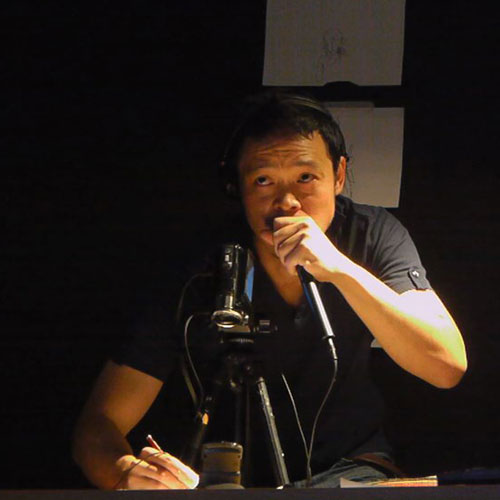 © Meiro Koizumi
Dates

March 7th [Wed] / 10:00-18:00(TBA)

March 8th [Thu] / 10:00-18:00(TBA)
Venue
Participants will be individually informed of the venue, which is planned to be in Tokyo suburbs.
How to Participate
Signing up for the workshop

(this event includes paid participation)

- Application period: February 7th–17th, 2018 (applicants will be notified of the results by email by February 21st)
- Number of places: 20
- Allowance: ¥8,000 per day (to be paid on the last day)
- Application criteria:
・Any individual between the ages of 17 and 24 physically capable of carrying out the tasks given in the workshop.
・All nationalities are welcome, but applicants must understand Japanese.
・Must be able to participate for both days of the workshop.
Participation in the workshop presentation: Booking essential. Show general admission pass on entry.
- Pass holders can join for the staging and filming of the performance prepared in the workshop.
- Date & Time: March 8th [Thu] / 15:00–18:00 pm or similar (applicants will be notified separately of the finalized time and date)
- Location: Base ruins tentative use open space "Forest of Asaka" 2-34 Hizaori, Asaka-shi, Saitama 351-0013
Credit
Concept and Direction | Meiro Koizumi
Assistant Director | Wataru Koyama
Director of photography | Yasuhiro Moriuchi (RAKUDA STUDIO)
In cooperation with Mujin-to Production and Rikkyo University Research Institute for Advanced Research in the Psychology, Arts and Humanities
Production Manager | Satomi Shimizu