[Scene/Asia program]
Mark Teh (Five Arts Centre) [Malaysia]
"Version 2020 - The Complete Futures of Malaysia Chapter 3"
Theater
The nation and its people dreamed of 2020 – and now the year is nigh. With their bodies and voices, the performers sensitively evoke the Malaysia of today.
Gathering playwrights, film directors and activists, Five Arts Centre is one of Malaysia's finest artists' collectives. The recent masterpiece Baling, by Mark Teh, one of the country's new generation of directors, was a documentary performance that shone a light on Malaysia's forgotten "history of nation building." It garnered high praise all over the world (in Japan it was performed at the TPAM – Performing Arts Meeting in Yokohama and Kyoto Experiment).
The departure point for this, the collective's latest work, was the "Wawasan 2020" strategic plan introduced by the Mahathir administration in 1991. The plan was to develop Malaysia into an advanced nation – in terms of its economy, education, welfare and every other sector – by the year 2020; people across the nation were implicated in it. Since then, a quarter century has passed. The children of that time are now adults, and 2020 is fast approaching. The five performers live in "the past's vision of the future": the present, in which time is all out of kilter. Their bodies and voices waver between hope and its loss, between their collective history and their personal memories. As we in Tokyo approach our own national event in 2020, what will we make of the fragments of song and poetry that they perform?
Profile
Mark Teh (Five Arts Centre)
Mark Teh is a director and researcher based in Kuala Lumpur whose diverse projects are particularly engaged with the issues of history, memory, and the urban context.  His collaborative practice is situated primarily in performance, but also operates via exhibitions, interventions, new media, education, curating and writing.  Mark graduated with an MA in Art and Politics from Goldsmiths, University of London, and is a member of Five Arts Centre, a collective of interdisciplinary artists, producers and activists in Malaysia.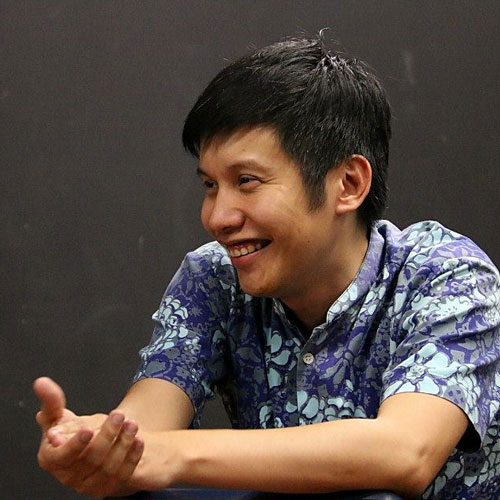 © Anastasia Sai
Dates

February 24th [Sat] / 17:00-

February 25th [Sun] / 14:00-

*Talk (after the performance), Moderator|Kyoko Iwaki
Venue
1F Minato Park Shibaura, 1-16-1 Shibaura, Minato-ku, Tokyo 105-0023
How to Participate
Booking essential. Show general admission pass on entry.

Language
English, Malay (with Japanese subtitles)
Credit
Concept and Direction | Mark Teh
Production Design | Wong Tay Sy
Creative Producer | June Tan
Production Assistant | Rebecca Chan
Lighting Design | Syamsul Azhar
Projections and Performance | Fahmi Reza
Performers | Lee Ren Xin, Faiq Syazwan Kuhiri, Roger Liew and Imri Nasution
Produced by Five Arts Centre (Malaysia)
In Co-Production with SPIELART Festival Munich (Germany), National Museum of Modern and Contemporary Art, Korea (MMCA)
Stage Manager | Woon Siew Yin
Supported by The Japan Foundation Asia Center Grant Program for Promotion of Cultural Collaboration and The Saison Foundation