Julien Fournet (L'Amicale de Production) [France]
"Friends, let's have a break"
Lecture Performance
What is a spectator? Prepare for an intellectual adventure over three nights, brimming with philosophy, humor and poetry.
L'Amicale de Production is a thriving collective making a name for itself around the world with performances that share their interrogations with the spectators. Calling itself a "cooperative of projects," it maintains its commitment to cities and society with an approach whereby a range of artists collaborate on a project-by-project basis. They skillfully deconstruct received ideas about theater and performance, blending philosophy with light playfulness aplenty.
L'Amicale de Production returns with a lecture performance over three consecutive days by founding member Julien Fournet. The series of performances, dubbed "A philosophical promenade through art, politics and ourselves," consists of three parts. It can be enjoyed as a whole, but each part stands alone too. Fournet's exquisite narration and guitar playing, and the playful format, will fire the imagination of the spectators sharing his space. Expect an intellectual adventure that renews the ties between theater and "us – the spectators."
Profile
Julien Fournet
Fournet was born in France. After studying philosophy, in 2007 he began to collaborate creatively with Antoine Defoort and Halory Goerger. In 2010 he assumed the role of director of L'Amicale de Production (a cooperative of projects), a new platform for artists to collaborate on a project-by-project basis. Fournet served as the producer of the collective's masterpiece, the globally successful GERMINAL (2012), which premiered in Japan in 2015 at the Kanagawa Arts Theatre. Although with groups he often creates site-specific works themed around play, some of his individual works are structured around lectures, treating philosophical subjects in intellectual and poetic ways.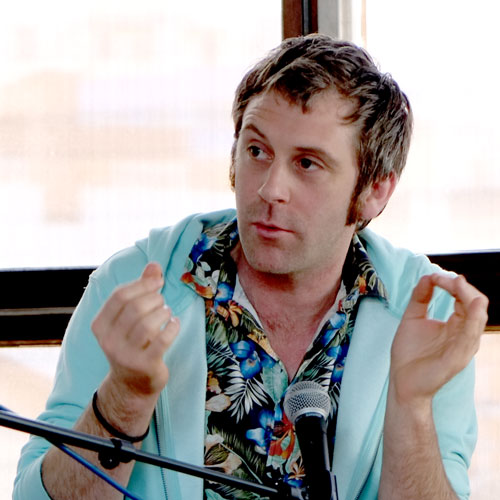 Dates

February 23rd [Fri] / 19:00-

Part 1 – Spectators of all the world, unite

February 24th [Sat] / 19:00-

Part 2 – Culture is dangerous

February 25th [Sun] / 17:00-

Part 3 – Manifesto for a new guild of creators
Venue
3-15-4 Shibaura, Minato-ku, Tokyo 108-0023
Tel: 03-5419-6446
How to Participate
Booking essential. Show general admission pass on entry.
Language
French (with Japanese interpretation)
Credit
Conception, performing and writing | Julien Fournet
Images | Sébastien Vial
Set | Arnaud Verlet
Small and big advice | Anna Czapski
External eye | Olivier Bosson
Producer | Marion Le Guerroué for L'Amicale de Production
Thanks to Antoine Defoort
Coproduced by Le Phénix, scène nationale de Valenciennes and Beursschouwburg (Brussels)
Originally commissioned by Le Lieu Unique (Nantes)
Thanks to Le Vivat (Armentières) for their support
Produced by L'Amicale de Production
Interpreter, Translator | Akihito Hirano
Supported by Institut français du Japon
Venue|SHIBAURA HOUSE