Bouchra Khalili [Morocco/Germany]
"The Tempest Society"
Screening | Talk
Can art bring about social reform? The talking point of documenta 14 asks what divides us and what keeps us together.
Born in Morocco, the artist Bouchra Khalili studied in France and is currently based in Berlin. Working across media such as film, video, installation and photography, she has garnered high praise for her works examining discourses and gestures of resistance to restrictive conceptions of borders and identity. Theater Commons Tokyo presents the first Asian screening of her film The Tempest Society, which was presented at documenta 14 and attracted a lot of attention there.
The title The Tempest Society refers to Al Assifa (Arabic for "the tempest"), a civic space founded in the nineteen-seventies by two French activists and a Moroccan factory worker as a platform for their activism. The group was also a movement for social reform through theater; its history is reactivated here by three youths of different provenance who are now Greek citizens, together with their guests. Their expressions, voices and bodies overlap with those of Al Assifa; from the stage, they issue an appeal for equality, civic belonging and solidarity.
Each screening will be accompanied by a discussion with Japanese artists and other guests, which will be opened to the floor.
Profile
Bouchra Khalili
Bouchra Khalili (Morocco) is a Berlin-based artist.
Among her recent solo exhibitions: Living Labour, Wexner Center for the Arts (2017); The Mapping Journey Project, MoMA (2016); Foreign Office at Palais de Tokyo, Paris (2015); Garden Conversation, MACBA, Barcelona (2015).
Her work was also included in many collective exhibitions and biennales, such as documenta 14 and the Milano Triennale (2017); Telling Tales, MCA, Sydney (2016); The Future of History, Kunsthaus, Zurich (2015); Positions, Vanabbe Museum (2014);  The Encyclopedic Palace, 55th Venice Biennale (2013).
This year, she is a recipient of Harvard's Radcliffe Institute Fellowship 2017-18, and is nominated for Guggenheim's Hugo Boss Prize 2018 and Artes Mundi Prize 8, 2018.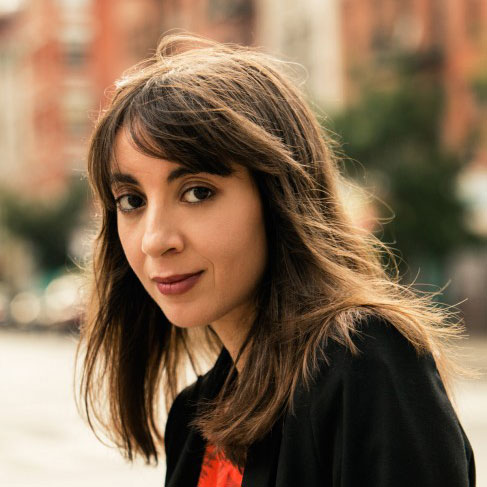 © Dustin Aksland
Dates

➀ Pireaus/Heterochronia by Hikaru Fujii (75min.)
➁ The Tempest Society (59min.)

February 22nd [Thu]

➀ 18:00 ➁ 19:30 + Discussion with Hikaru Fujii and Arata Hasegawa (Independent Curator)

February 23rd [Fri]

➀ 15:00 ➁ 16:30

February 24th [Sat]

➀ 14:00 ➁ 15:30

February 25th [Sun]

➀ 18:00 ➁ 19:30 + Discussion with Akira Takayama and Tatsuki Hayashi (Translator, theatre researcher)
Venue
7-5-56 Akasaka, Minato-ku, Tokyo 107-0052
Tel: 03-3584-3201
How to Participate
Booking essential. Show general admission pass on entry.
Language
Greek, Arabic, French (with Japanese and English subtitles)
Credit
Produced by Bouchra Khalili & Alexandre Kauffmann
Commissioned for documenta 14.
Co-produced with Ibsen Awards, Ibsen National Theater, Skien Norway.
With the support of FNGAP, Paris; Holland Festival, Amsterdam; and Athens Festival.
Screening in Tokyo Co-organized by Goethe-Institut Tokyo